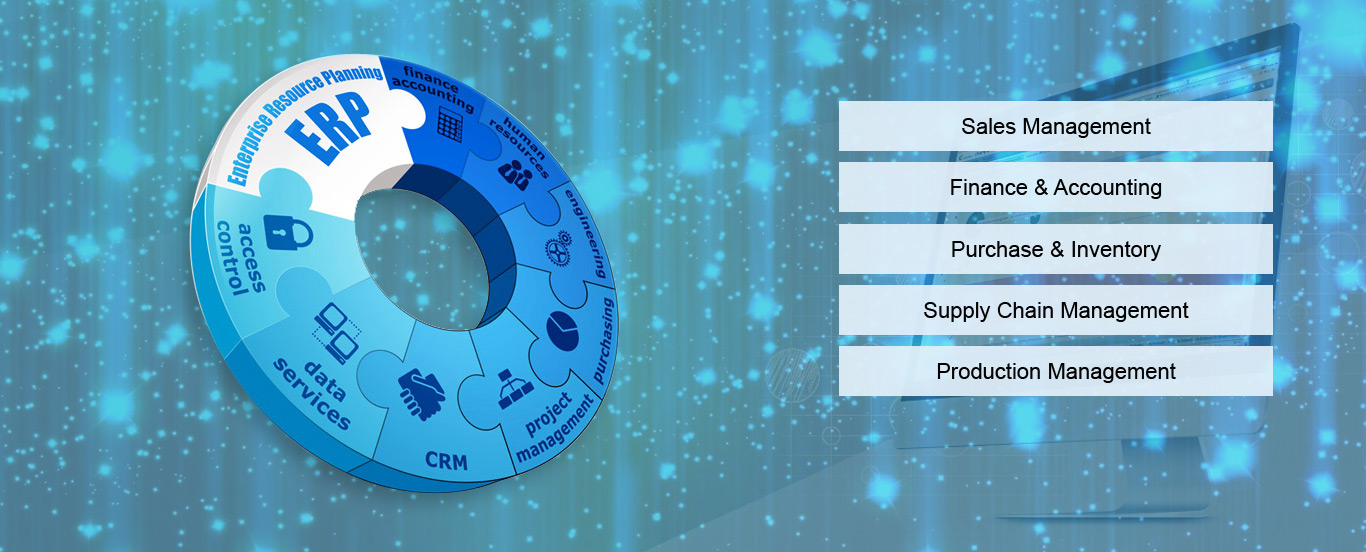 ERP Software Solutions, Noida
ACG Infotech is a trusted name in the field of cloud ERP software development and other software solutions provider in Noida, Delhi NCR region for several businesses comprising small, medium and large-sized organizations to the efficient management of the processes. The team of professionals at ACGIL are capable to develop various types of custom solutions besides ERP solutions as per the client's needs. Our recently launched MX-ERP on Cloud suite has got an excellent response in Noida region due to its modern and advanced functionalities. Whether it is small-sized or large-size company, an Enterprise Resource Planning (ERP) solution has become an important requirement. With the ERP, it is easier for the branches of a firm to verify information about business order and others.

As one of the leading ERP software company in Noida, India, we are committed to offer our clients a world class application. One of the major benefits of taking MX ERP as a software solution is that can be purchased online, without any need of implementing or installing the software on the client system. The solution offers high security and less upfront costs.

Many clients of ERP software in the NOIDA region have purchased the solution for improving the workflow of their company. The companies provided their good response about the software and reported that the software saved much time of the employees and also decreased the requirement of staff for doing a particular task. The product has extraordinary features in many areas such as financial accounting, Pay Roll applications, job costing, service tax, fixed assets, etc.
Advantages of ERP software on behalf of enterprises:
Provide Complete Visibility: By having the ERP software at your end, you will get the facility of enhanced visibility to all the important operations along different departments of the organizations.
Ensures Coherent Workflow: This software offers automatic & well connected workflow to all the operations and processes in order to ensure quicker completion and smooth transition of processes.
Facilitates Unified Reporting: For small and medium enterprises, it is considered as the well integrated single platform to provide accurate reporting in real-time format.
Offer Customization Facility: Either, it is a small vertical or a big enterprise, customization is possible with the systems at our end. According to the work environment and process flow, ERP solutions can be easily customized with ease.
Centralized Database System: As, this is a single unified platform, it provides to the users a secure and fully synchronized database accessibility. Also, through this system, all the transactions can be easily tracked by anyone who have complete business authorization.
Manage Business Successfully: The offered ERP application is specifically helpful in forecasting activities and control operations much better than any other business application.
ERP software is available in certain modules as the following:
Finance: All financial activities of the organization are recorded by the finance modules. It is used on regular basis by companies for recording transactions.
Inventory: It facilitates gathering of data of inventory department such as delivering goods, classifying materials, rejections by suppliers etc.
Manufacturing: This is related to recording of data of the manufacturing department.
Marketing: Marketing module is solely responsible for marketing-related tasks.
Sales: This module is used for recording information related to the department of sales. Data which are recorded within this module are order shipping, sales returns, sales orders, order shipping etc.
Purchase: Purchase module is related with production planning and inventory control tasks.
Whatsapp
- (+91) 98 18 993537