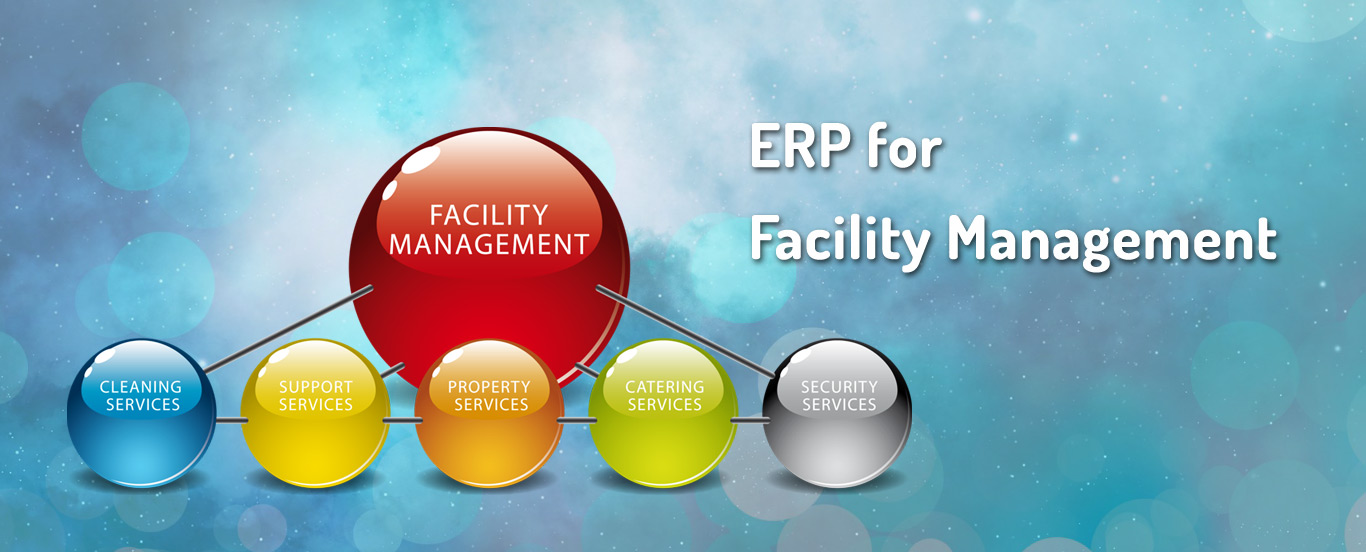 ERP for Facility Management
Whenever we begin the conversation about organized business, priority of having facility management must keep it mind. Organizations always serve their customers with best of facilities that completely satisfy their basic needs. Be it a showroom or any mall, convenience of clean washrooms and perfectly moving elevators always put attraction of people towards them. Similar sense applies for all business establishments that includes hospitals, offices, hotels and many more.

Whether you are dealing in rendering housekeeping, hospitality, security, guarding, maintenance and engineering services, your priority must be to satisfy the clients and put the smile back on their faces. facility management ERP software from ACGIL brings for all organizational entities a highly advanced solution that completely help in eliminating all kinds of issues rise during facility management.

With the help of the ERP software application, business get quickly develop and attain praise for their uninterrupted inter-connectivity between departments, better payroll administration, on-time service delivery and enhanced accounting maintenance. Avail from us the comprehensive ERP for facilities that accelerates your firm's success by leading day-to-day operations towards strategic growth.

Mentioned points elaborate some key advantages of offered software:
Customize the way of operating activities as per business needs
Integrate operations of back-office and linking activities with ease
Boost profitability by providing accurate and on-time billing services
Provide organized and updated information to facilitate decision makers
Offer a reliable and user friendly environment to the users
Complete Process

Manpower Delivery management
Connect sales order with manpower assignment and deployment

Asset Management
Manpower Sales Order with Assets on returnable basis, Other Assets

Customer relationship management
Sales and marketing relation, QC services, customer contact

Help Desk
Incident Management, Problem Management, Change Management, Reports, Integrations

Financials 
General ledger, cash management, accounts payable, accounts receivable, fixed assets

Data services 
Various "self-service" interfaces for employees' Attendance

Access control 
Management of user privileges for various processes

Front Office

(1) Pre Quote Survey
The proposed application will allow a pre quote survey to be undertaken before quoting a price to the prospective customer.

(2)Project/Site/Property Management
With Manpower Project Management integrated with service desk, handling projects will become much easier for Admins. This is an impressive way to coordinate with various experts and teams.

(3) Multi Site Support
Customers with multi location, you can customize your configurations for every site according to their unique requirements. You can manage multiple sites with a single helpdesk tool and get control & visibility over the needs of the sites.

(4) Self Service Portal
This interface will connect the deployed manpower and allow the site register access for manual attendance besides having option for biometrics. It will also facilitate for End users to submit service requests & Incidents.

(5) Service Level Agreement & Client Invoice
Based on agreed quote the SLA will be created, which will in turn be connected to corresponding Invoice to be timely generated. With the intuitive SLA management you should be able to escalate proactively to multi levels of hierarchy and make sure your SLAs are met.

(6) Trouble Ticket Dispatch
The new feature of manual ticket distributing is completely based on the criterion of existing load over technicians. Further, it also determines their availability and checks if SLA is tied with the tickets before the final dispatch.

(7) Trouble Ticket Rules
Helpdesk coordinator will put for better technology usage by implementing advanced business rules that allows users to classify, categorize and assign tickets on the basis of criteria meeting the business environment.

(8) Help Desk Notifications
Due to the sms and email alert facility, you can stay informed about your tickets and can even get your customers & technicians updated for the tickets status. For all the users, you will also given the authenticated login information automatically.

(9) Help Desk Reports
You can easily generate help desk performance report. With numerous reporting functionalities, you can efficiently analyze the entire help desk and can have control over all your tickets & assets.

(10) Data Archiving
Archive your unused and old data to improve your helpdesk performance. Further, help desk is enabled with the capacity to report, search and export the data and it also allows you to retrieve the archived data from different queue.

(11) Email Alerts
You don't have to be logged into the help desk application to view or receive alert. It will simply send an email with the appropriate automatically.

Asset Management

(12) Asset Mapping
Map every asset in your entire network with the efficient advance search options. You can search all the assets.

Infrastructures

(14) Service Catalog
Showcase all your services to your end users and provide an extremely flawless face to the organization. Also, you can tailor your workflow of offering services to all the service categories. Through this catalog, you can easily set service level agreements and approval process for individual service request.

(15) Contract Management
Seamlessly manage contracts with different market vendors by maintaining track records of expiry dates and generates automatic alerts for renewals.

(16) Purchase Order Management
Purchases can be managed right from the purchse requests for the defined PO with an organized delivery process and approval. Even you can Identify the areas of excess expenditure and eliminate redundancies effectively.

Admin

Admin Module
Multi User Support
Employee Database
User rights and profile setting (add, edit, view and delete levels for all Masters/ Transactions and Reports)
Financial Year Creation and closer
Configuration for transactions codes in all modules
Create Heads/Sub-heads
Item specifications
Create Site Office or Branch
Create Employees with hierarchy
Create Types of Vendors (or Contractors)
Create Specification for sub-Contractors (third Parties)
Create Types of Qualified sub-Contractors (third Parties)
Create Types of Clients
Reports
Employee/User Listing
Department Listing
User Rights Report
Access Log report (Audi trail)
Key Features
Search of name and description fields
Create Budget and monitor Cash Flow
Reconcile Financial reports
Various MIS reports will be available at various levels of authorization. A larger part of business management system will be dependent. MIS will cover many aspects.

General
User-friendly interface and easy to operate (Mouse and / or keyboard)
Filter options before reports thus allowing the user to see one report from different angles
Export facility of reports into Microsoft Word, Excel, PDF formats
Direct e-mail of reports from the system
Enhanced security features to provide data safety
Developed on the open source technologies thus ensuring complete reliability on the present system and flexibility for the future enhancements.
Whatsapp
- (+91) 98 18 993537