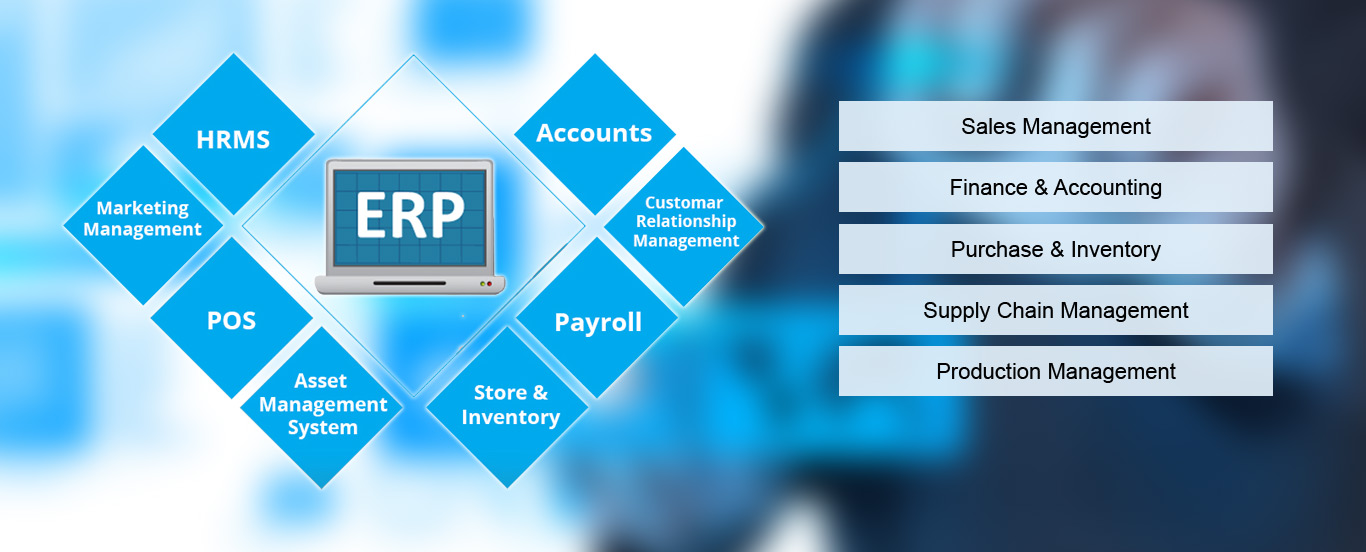 Web Based ERP / Online ERP Software
Web Based ERP software solutions offered by ACG Infotech are totally customized and cover everything required to run a business irrespective of the size of a company. It virtually offers all processes starting from a gate entry to final delivery of the product to the clients. It has numerous features suitable for various businesses especially for distributed verticals such as distribution, wholesale and manufacturing.

Being a Browser based ERP in India, it is a less expensive solution, easy to implement & use that effectively maintains the up-front cost of the business with its cost effective feature. The enterprise solution offers real-time information about purchase, order management, finance, employee management, inventory, e-commerce and much more. ACGIL is providing you the power of selecting your own device or system that effectively adapts to your enterprise needs and suits with your specific requirements.

The cloud hosted ERP software solutions are best-in-class system at the right price for your growing business demands that has ultimate power to help you boost productivity, seize opportunities, cut costs and anticipate challenges as never before. A single click and the software access is in your hands. It is all about the use of a browser required to run an online software application over the web to perform work at any time and from anywhere in the world.
ERP Modules:
Project Management
SRM (Supplier Relationship Management)
Award Management
Franchise management
Taxation
EPM (Employee Performance Management)
ESS (Employee Self Service)
Event Management
The Mx-ERP offers a solution that addresses the key requirement of an organization such as:

Simplicity in implementation and maintenance
Low total cost of ownership.
Meeting current business process requirements
Having scope for improvement in processes in future.
Smooth upward integration for growth.
Major benefits of the solution:
Increase revenue: The choice of implementing a web based ERP can contribute to your business significantly because it provides easy and fast access to real-time information anywhere and anytime. It helps you identify new opportunities of sales, bring new products to the market, and provide business-building strategies for the best customer support and services.
Reduce costs: Users can have the most convenient way to resist the system implementation trouble by denying utilizing the expensive systems. Now, say goodbye to costly multiple upgrades and periodic customization efforts needed to maintain system compatibility while adding new functions. With this solution, you can run your business with just one business management solution.
Improve efficiency: The well integrated solution effectively brings together the informational flow and users which ensures safe & proper process management. One centralized data repository automatically boosts business efficiency by providing the right information to the right people also by eliminating redundant data entries.
Mx-ERP meets end to end requirements: A comprehensive business management solution used for manufacturing equipped with a user friendly interface and serves as the primary enterprise resource planning application. It provides all the administrative functions that let the users customize and back up data, define currency exchange rates, configure permissions that extend its value far beyond its primary administrative function and streamlines your entire business processes.
Maintain your IT solution as your company grows: Still bound with legacy system, why put up with the software that will soon outgrow? Slow software performance, outdated information, limits & restrictions on data storage and confining the limits over a wide number of simultaneous users and locations that will all be the facts of the past.
Support multicurrency transactions: Also, users can conduct checks and provides report of all business transactions in multiple currencies.
Integral components included by Mx-ERP: Purchasing, Sales, Distribution management and minimum Stock control. Improves customer relationships with relevant company wide data for better sales and support.
Online ERP Software System
ACG Infotech will deliver a solution that is specifically built to simplify the back office operations and also address the needs of companies who are looking for an easy-to-use, affordable, yet powerful Online ERP software across the world including India. The core development part of our application is Mx-ERP, which is easy to deploy and can be easily maintained by providing speedy implementation, robust security, scalability, high performance, and the ability to adopt changes as the firm grows and business requirements gets changed.

With the help of our online ERP software on Cloud in India, one will facilitate by quickly generating the reports on any of the production related plans. All these reports will be generated on the basis of material availability, stock requirements, order position, etc. It further helps production managers in outstanding management of their urgent requirements and various other ad-hoc needs, which is quite common among the production scenarios.
Some advantages:
Faster communication than any other traditional ERP
Users can have access from anywhere
Ensures effective suppliers & customer managements
By utilizing this, users can predict overall cost and effort of project
Saves much time and effort of employees
Concerned about providing a centralized database system
It reduces worries and hassles about various technical problems
This software also gives enhanced visibility to handle operations flawlessly
It has a single server, single database and hence requires only a single point of maintenance
Click here for Our Approach & Methodology
Whatsapp
- (+91) 98 18 993537