Top 6 Emerging ERP Trends in 2017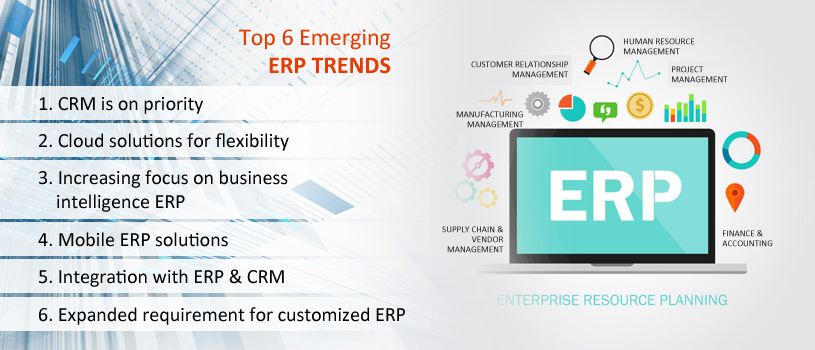 Enterprise Resource Planning (ERP) isn't a built up idea any longer. It's a fact, and it's setting down deep roots. Knowing the developing trends in ERP gives the chance to comprehend what one ought to do in their endeavor to accomplish the desired outcomes from an ERP implementation.

Change is the nature of the environment and specially in the IT industry where you have to face a very tough competition in every step for the existence with the ever changing technology. And of course, Enterprise Resource Planning (ERP) landscape is no exemption in this scenario, with exponential changes shaking up the biological system. An understanding of the most recent patterns and trends would enable businesses to stay at the highest point of their game.

Anyway, here are the top emerging ERP trends in 2017:

1. CRM is on priority
With different customers based organizations performing ineffectively because of the escalating recession, organizations have understood the significance of utilizing customer information further to their good fortune. Thus the main purchase in ERP have a tendency to be for a CRM solution.

2. Cloud solutions for flexibility
On-premises ERP solutions needs organizations to oversee a significant part of the procedures and data including, however not restricted to; information, systems administration, operating systems, storage, etc. This can essentially eliminate efficiency.

3. Increasing focus on business intelligence ERP
Organizations are concentrating on improving expectations by utilizing an Enterprise Resource Planning system with particular business intelligence. If there is a right ERP solution working in your organization, best decision making processes will definitely improved.

4. Mobile ERP solutions
Today, small, medium & large-sized organizations are more interested investing on ERP software available from mobile devices like tablets and cell phones. Mobile access of an ERP software is another useful element for organizations, with the assistance of mobile access, organizations can finish tasks, for example, syncing information with their ERP and getting to sales analytics on the go. Including these advantages, a mobile ERP solution will expand the response time.

5. Integration with ERP & CRM
A single integrated ERP & CRM solution will enable businesses to act more effectively without the requirement for unique software system. These software consolidate information into one platform, enabling the company to oversee business-particular procedures and increase add up to perceivability into business operations and execution.

6. Expanded requirement for customized ERP
At the point when ERP solution was came into existence, ERP solution providers were focusing totally on making specific software systems. In any case, as time passed on, they began favoring non specific ERP solution. It seems the impression that the clock has turned back as specific ERP programming is being favored by businesses these days.


For more information related to our various ERP & CRM software packages, contact us here:
Click here:
Online Demo
for Free online demos of our ERP, CRM, HMIS & other software products.
Click here:
Product Enquiry
for our product related enquiries.
Find here:
ERP & CRM software related news, blogs & articles
.
Other ERP related links:
Free ERP Online Demo
ERP Vendors in India
ERP Suppliers in India
ERP Software Packages in India
ERP Providers in India
ERP Consultants In India
ERP Packages In India