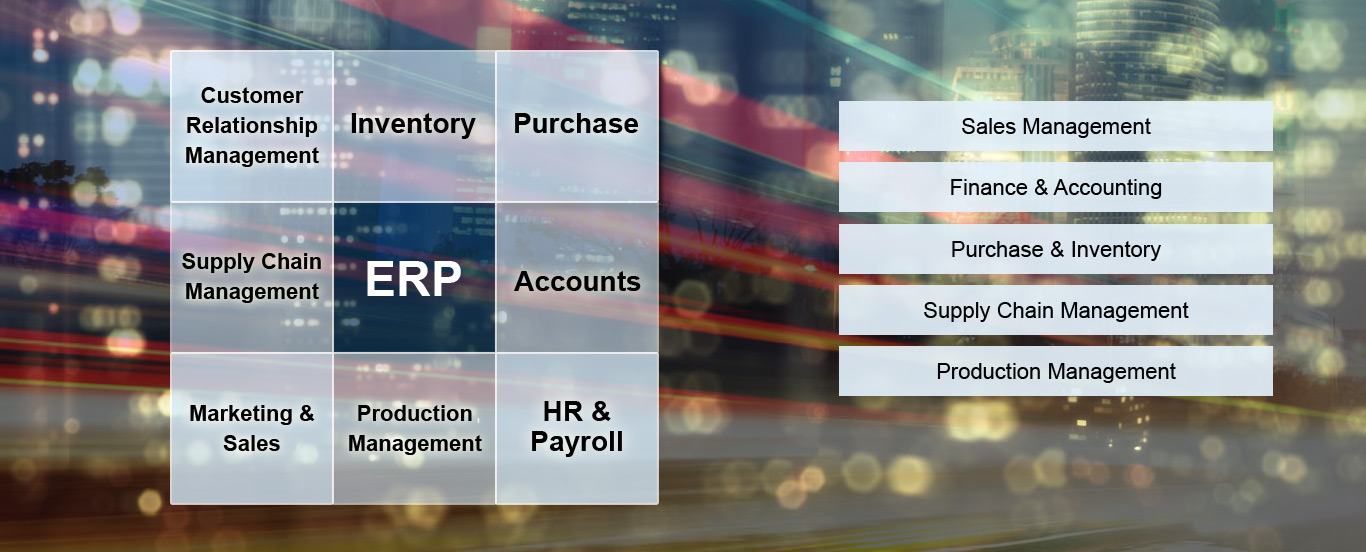 ERP Software Solutions, Delhi NCR
ERP software solutions have greatly influenced all businesses located in Delhi-NCR, India by effectively improving their strategic alignment and efficiencies of human resource. Undoubtedly, MX ERP offered by ACGIL has helped numerous organizations in managing finance and has also assisted them to get rid of unwanted operational redundancies. This software has made everything possible for the clients through which they can access entire business information useful and accurate for company growth.
Our web based ERP software in Delhi has several modules such as finance module, purchase module, marketing module, manufacturing module, sales module and inventory management module.
Finance modules: can look after and record entire financial activities of organizations and is frequently used by different firms for the purpose of recording transactions.
Purchase module: interlinked with inventory control and production planning tasks.
Marketing module: mainly deals with marketing-related functions. Now, manufacturing module is responsible for recording values and data of manufacturing section.
Sales module: maintains all information which are related to sales viz sales returns, sales order, order shipping, and returns.
Inventory module: facilitates collecting inventory data like rejection by suppliers, delivering goods and classifying products.
ERP Software Company in Delhi NCR
Due to our transparent dealings & cordial relationships with our esteemed clients, we are valued as one of the leading ERP software company in Delhi NCR. Clients from different businesses and verticals are free to avail our accounting and payroll system to improve functionality and profitability of their firms. Moreover, our major focus lies in designing these applications to enhance overall functional efficiency of all types of businesses includes education, manufacturing, construction, cab management, facility management and many others.
Comprehensive experience in ERP integration, implementation and expansion plays a significant role in developing strong functional abilities and making software architecture scalable. Organization's ERP solutions integration and implementation techniques helps business to speeds up its delivery values due to several reasons which consists of incorporating right analytics for real-time decision-making. ERP implementation systems integrate various applications across different technologies and platforms to enhance IT investments, productivity and profitability.
Some prominent features of ERP can be detailed as:
The system plays an important role in managing complete master lists of vendors and customers associated with the company.
ERP software depicts strong and highly effective level of financial administration which is helpful for organizations.
Certain ERP packages also consolidate interoperability along with customization features.
In this competitive era, there is a requirement of sophisticated device which could help users in managing all tasks related to manufacturing and supplying. ERP best suits with their needs as it can also handle all sorts of phases whether it be software designing or requirement fulfillment of customers
The system has the capability to support the department of data management in a better or centralized way and ensures security through incorporating permissions.
Best ERP solutions available in Delhi NCR are designed for Human resource department not only monitor employee administration & legal reporting activities, but they also have broadened the other areas of functionalities.
As customers are the valuable asset of any company, so, it is quite important to maintain strong & cordial customer relationships. ERP also finds its better use in this sector.
ERP Modules:
Sales Management

SRM (Supplier Relationship Management)

Finance & Accounting

EPM (Employee Performance Management)

ESS (Employee Self Service)

Project Management

Franchise management

Taxation

Event Management

Award Management
Other Advantages:
Whatsapp
- (+91) 98 18 993537